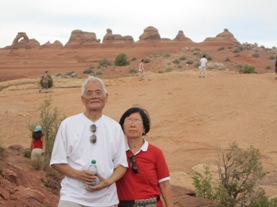 I was asked to write an article for Herald on how and what I had done in my experience in fighting the battle of cancer. To be honest I was never good at writing especially in Chinese, to answer the questions asked, the following is my testimony. I am a pancreatic cancer survivor of 6 years, like many cancer survivors I went through the moment of despair and I had walked through the valley of death and survived. The day my primary Dr. confirmed from my test reports that I had a tumor in my pancreas and thought 80 % could be cancerous, I was stunned and helpless. For more than 10 years I told myself those symptoms of weakness left arm, chest pain and irregular heart beat were of a weak heart (mitral valve prolapse) problem and were so treated by my cardiology Drs by taking Atenolol and Lipitol, until one day in Oct. 2005 I had chest pain and jaundice that prompted my Dr. to order blood test and CT SCAN. Scan showed a shadow of tumor and blood test showed my Bilirubin was 15 while at normal it would be 1 or less. Praise the Lord! Thank you Lord! I was accepted to MDA for evaluation in 3 or 4 days. The 1st day I saw my MDA oncology my Bilirubin went up to 29, under emergency condition I was scheduled for the next day to install a stent in my Bile duct and a biopsy procedure performed, it was confirmed the tumor was cancerous and 2.7 cm at the head of pancreas. My treatment in MDA began with chemo first follow by radiation, the result showed tumor shrank some. Two months later after radiation treatment, in Apr. 2006 Dr. Pisters and his assistances performed a Whipple procedure (organ bypass) surgery on me. After 7 day of recovery stay in MDA, I was discharged. Surprisingly to me I gained back strength sooner than I thought, and before long I went back to practice Tai Chi twice weekly which was an important part in my retirement life since 2002. I began to question if Tai Chi practice was why I had a speedy recovery and I believed it was.
For my first 2 years after surgery I enjoyed to go to seminars whenever I had time for a meeting. There were so much up-to-date information in caring for survivors from Drs. And experts on that field. My life style began adapting to changes focus on DIET treatment, exercise, peace and stress free.
On diet treatment:
I stay on 3 meals a day (each time I eat, I need to take medication to digest food) with 1 or 2 light snacks in between, breakfast is meatless, lunch and dinner plenty of home grown vegetables and mostly chicken or fish or pork for meat. For breakfast, I followed a strict DIET on the same menu each day that is one bowl of oatmeal and one glass of smoothie.
For oatmeal: (for 2) 6 table sp. of oatmeal (1 min. cooking pkge), 1 tea sp. ground tangerine peel, half banana, 1 tea sp. cinnamon, cook for 2 min. dilute it with soy (Silk) milk and add 2 table sp. ground flax seeds( no cooking) after cooking.
For smoothie: I pick a rainbow color of vegetables and fruits, mainly blue berry, broccoli, carrot, celery, papaya and varieties of seasonal produce in market and my garden such as bitter melons, cucumbers, bell peppers, pomegranates, figs, tangerines, add 1 or 2 tea sp. roasted black sesame seeds and soy milk put all these ingredients in a blender to make a smoothie.
On exercises:
I practice Tai Chi Chuan 2 hrs each day 3 days a week since 2002 the beginning of my retirement. I have a long history of back pain, hard to bend down to tie shoe laces, and shoulder arthritis my doctor said at my age the joint degeneration could only deteriorated more, to this day all healed except back pain that was an old wound I had in my 20s. I believed and hope that this exercise together with my DIET treatment would keep my IMMUNE SYSTEMhigh, a good way to keep cancer cells under control. While diet treatment plus exercises are important in fighting recurrence, I also try to keep peace of mind, stress free.
On peace of mind, stress free:
My wife and I loved to work in our back yard, for years long before we both retired, we STARTED A hobby of vegetable gardening, planting trees and flowers. By working outdoor we enjoyed sunshine fresh air, talked to plants without words, it's calming and relaxing, we grow organic produce also for consumption, for those hours I worked surrounding may be quiet and calm but I would never feel lonely at all, I would sometimes standby meditated for a short time. Watching the plants grow and changed day by day I could see that life in nature is change and began to think and accept that cancer is a part in aging, by maintaining my immune system high I may by God's grace slow down this process of change. The illness of cancer is behind me. At the end of despair I found hope and I appreciate every day the Lord provided for me.